SOLONATURE®
Sustainable wood and steel access control solutions
To browse through our brochure please download it

SOLONATURE® 2021 (PDF)
Your projects need a double answer: a capacity to listen, so we can meet your specific needs and a reaction force, so we can ensure deadlines and quality.
SOLOSAR, the skilled craftman and industrial sized simultaneously
Craftsman because we listen to you ...
Craftsman because our experience with wood is now part of the history of the company, but also because we consider each project as unique.
Carrying out a tailor-made project, adapting a layout to an existing configuration, manufacturing in small units?
Our design office and our manufacturing unit are there!
... industrial sized to ensure your supplies
Because the size of our teams and our production force allow us to support complete equipment projects, to deal with large shelves in a reactive manner, we are a full-fledged industrial partner.
An alliance to resist time and degradation
Unlike standardized ranges, SOLONATURE® is betting on a range of quality products that are unique in their design. They combine the best of steel and wood by mixing the mechanical properties of galvanized steel with the aesthetics of pinus sylvestri EN335 treated.
This unique association is available in fences, furniture or exclusive access control systems.
SOLONATURE provides the warranty to products designed to last and to better resist accidents and deliberate damage.
The choice of pinus sylvestri
Nothing looks less like a type of wood ... than any other type of wood. We have selected pinus sylvestri, a species known for its natural durability reinforced by the EN335 treated and its good mechanical properties.
Pinus sylvestri benefits from a positive environmental record when the forest from which it comes is sustainably managed. This is the case of the forests of central Europe which we have chosen as a source of supply. Their soils perfectly adapted to a rectilinear and healthy growth allow an economical management of the resource.
For SOLONATURE® products, we impregnate our wood exclusively in protection class 4 according to EN335. Only impregnation in an EN335 treated "vacuum-pressure" is effective.
We offer a wide range of products to meet all applications (seaside, rest area, cycling paths, etc.). What if you can't find what you are looking for or want a personalized project?
Contact us, we will find a solution because for us, your project is unique!
Some of our many achievements: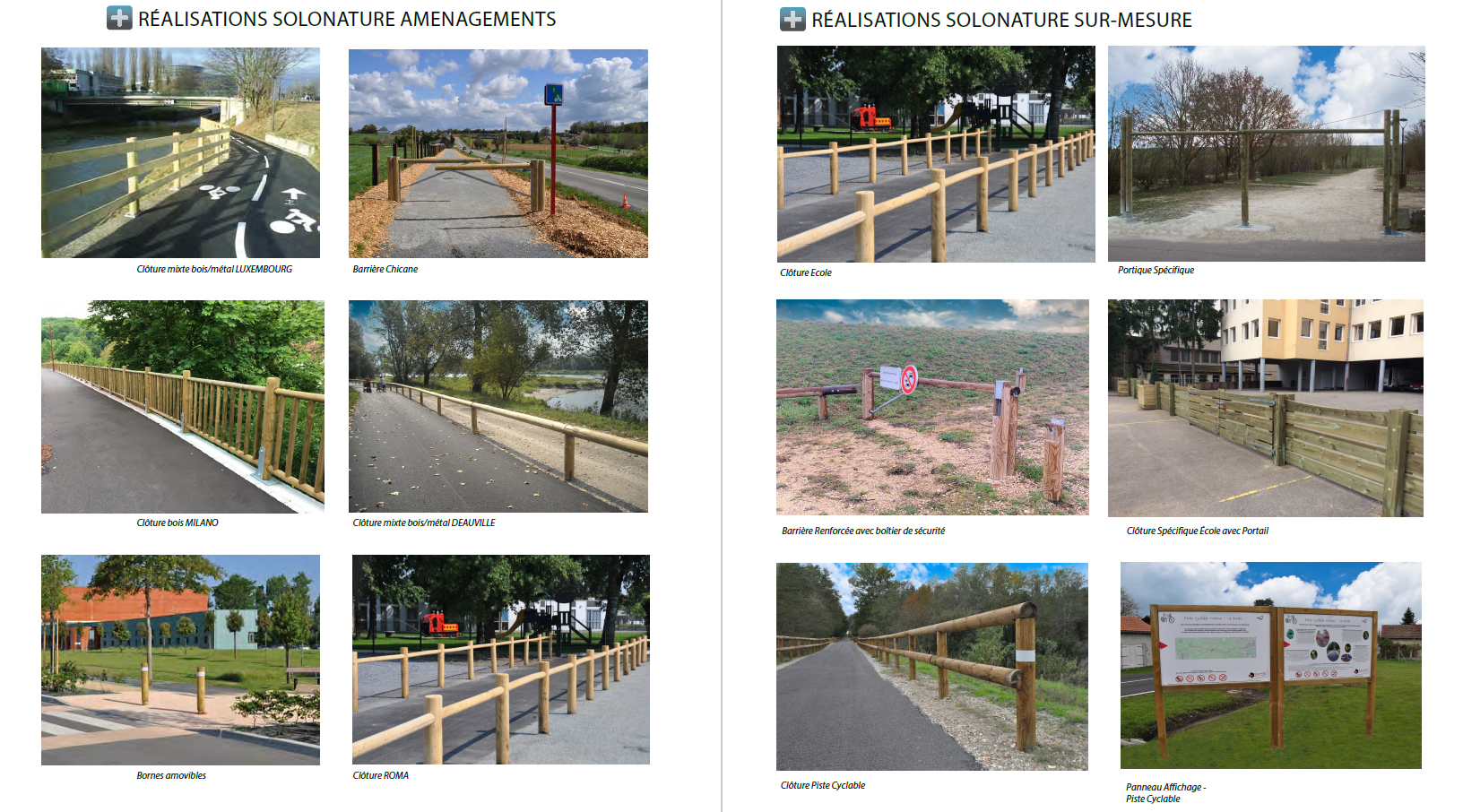 To become a distributor of SOLONATURE products, contact us on 03 87 98 56 04